Trusted For Over 35 Years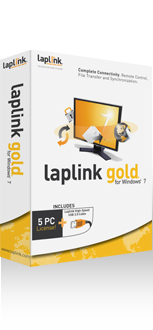 Access your PC and files
From ANYWHERE!
Laplink Gold
Complete connectivity, remote control, file transfer and synchronization
$89.95
£56.95 | €79,95
buy Now !
Transfer Files
Complete Connectivity
Versatile PC to PC Connections
Remote Control
Automatic and Fast Synchronization
High Security and Authentication



File Transfer

Using Laplink's SpeedSync® technology, you get the fastest transfer because it only sends the changed portion of the file.




Remote Control

Remotely control, operate, maintain, reconfigure and even restart any server or PC.




Automatic & Fast Sync

Set up a schedule to keep folders and PCs synchronized automatically and use SmartXchange® to perform on-demand synchronizations.




High Security & Authentication

Users have a choice of Microsoft® or Laplink user authentication, multi-level encryption and Microsoft CryptoAPI support, plus lockout password protection and platform compatibility
Complete connectivity, remote control, file transfer and synchronization
Remotely control and interact with your PC with the newest edition of Laplink Gold. Updated for Windows 7, now quickly and easily connect your PCs safely and securely across multiple operating systems (Windows 7, Vista or XP) and control remotely, transfer files, run ad-hoc or scheduled synchronization jobs, and much more.
Simple to set up and use, Laplink Gold for Windows 7 automatically connects through firewalls and proxy servers and features a full complement of remote support tools.*
New in Laplink Gold for Windows 7
NEW! Fully compatible with Windows 7
NEW! Fully compatible with 64-bit operating systems
NEW! Updated Remote Control with screen sharing
NEW! Laplink Screen Sharing works even for PCs without Terminal Services (e.g. Windows 7 Home Premium, Vista Home, XP Home)
Connect PCs Safely and Securely
Connect your PC's using a variety of connection methods:
Laplink USB 2.0 for the fastest possible transfer speeds
Across a network, home or business, even wireless
Across the internet, through firewalls and routers automatically with no special configuration*
Laplink Gold for Windows 7 is the latest version in the family of products including Laplink 2000, Laplink Pro, Laplink Tech, Laplink Gold 11.5, Laplink Gold 12 and Laplink Gold 2008.
Offering unbeatable features, performance and price, Laplink Gold for Windows 7 provides all the advanced connectivity tools needed for your PCs.
For more information, please read the User Guide!
© Copyright 2016 Laplink Software, Inc. All rights reserved. Laplink, the Laplink logo, Connect Your World, Laplink Gold, SmartXchange and SpeedSync are either registered trademarks or trademarks of Laplink Software, Inc. in the United States and/or other countries. Other trademarks, product names, company names and logos are the property of their respective holder(s). SpeedSync technology is covered by U.S. Patent No. 5,446,888 and other filings in the United States and/or other countries.
Easy PC Setup: 3 Steps

1

Upgrade & Install

Upgrade your operating system to Windows 8 and then install PCmover Windows Upgrade Assistant.


2

Transfer

Click through the easy-to-use wizard and select which programs, files, users and settings you want transferred to the new OS.


3

Done!

Your computer has the same personality and functionality as it did on your old OS without overwriting the new OS.
Important
Laplink Gold should only be used as intended and as described in the User Guide. If you attempt to use this product for unintended purposes, your computer may become unstable or unusable.
If you have any questions, please review the documentation below or contact Laplink Technical Support.
Laplink Gold Documentation
System Requirements
Windows 8 (see note below) | 7 | Vista | XP | Server 2003 and Server 2008
Remote Desktop Protocol (RDP) not available for use with Windows 8, must use Laplink Screen Sharing instead
Have a different operating system?
PCs running Windows 98SE, ME, or 2000 require Laplink Gold 2008 which can be purchased separately here.
PCs running Windows 98FE or 95 require Laplink Gold 11.5 which can be purchased separately here.